Best Luxury Interior Designers in Gurgaon & Dwarka Expressway
Interior design is a significant factor in any home. Incorporating the best interior designs assures that home décor has always been profitable. Your residence will seem beautiful & classy with the assistance of skilled interior designers in Gurgaon & Dwarka Expressway. According to the needs, it ensures to add style. To remain in the minds of homeowners, designs ought to be pragmatic. Despite how minimal the interior designs are, they also improve the aesthetic appeal of your place.
The organized rooms are an excellent choice for providing hassle-free solutions. It will complement your way of life and consider your available space. However, based on the needs, the interior design of a home or business must be carefully chosen. It guarantees a quality role and makes it simpler to identify the outcomes.
High-End Luxury Interior Designers In Gurgaon & Dwarka Expressway- Exceldes
The leading interior designer in Gurgaon & Dwarka Expressway is Exceldes, known for its distinctive flair and luxury interior designs. With our imaginative selection of infrastructure projects, you may step into your luxurious apartment. Conversely, employ our home furnishings services to make the home you have always wanted. We are the most qualified professionals to change your house into a contemporary residence. Our interior designers in Gurgaon & Dwarka Expressway are experts in offering customized solutions to every client's requirement. They are exceptionally well-versed in modern and luxury furniture and interior decor trends.
We develop interiors that blend creative designing & planning for commercial and residential buildings, including luxury apartments, villas, penthouses, duplexes, bungalows, and private offices, and sliding wardrobes, walk-in wardrobes, island kitchens, modular kitchens, etc. We have an impressive portfolio of high-end developments to give you a complete idea of how our work can be implemented in your home.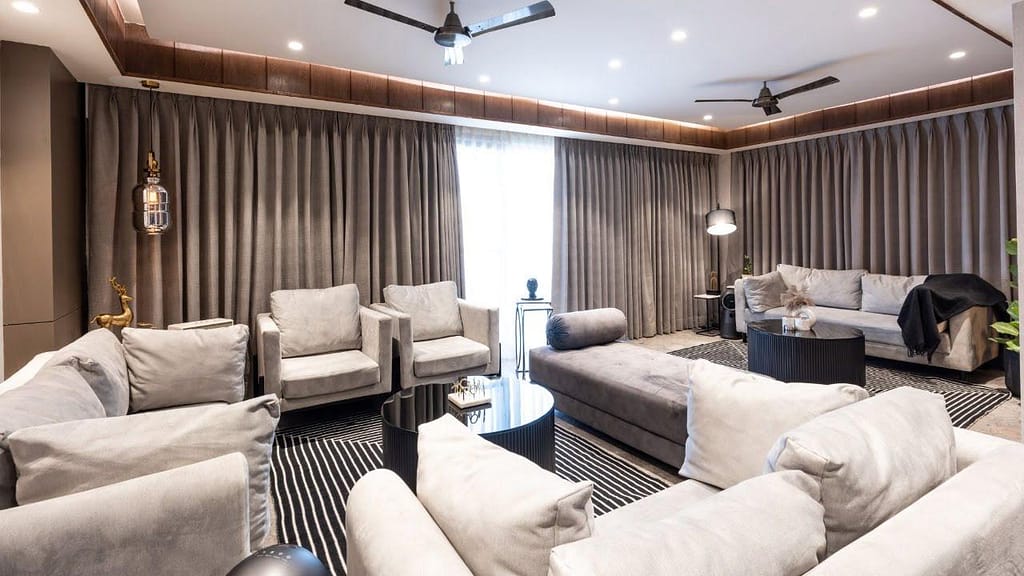 What Do Our Top Interior Designers In Gurgaon & Dwarka Expressway Do?
1. Great Exteriors by our interior designers in Gurgaon & Dwarka Expressway
We have been one of the top interior design firms, and we specialize in providing breathtaking and luxurious architectural designs for exterior purposes. We employ the latest technologies, including 2D-3D modelling, visualization, and animations, to display the designs for the exterior requirement. We have a team of experts who are very knowledgeable and experienced in this area.
Our architects and interior designers in Gurgaon & Dwarka Expressway work tirelessly to ensure the best and most distinctive exterior designs for your workplaces, houses/villas/bungalows and organizations that perfectly meets customer requirements. Experts provide our complete exterior-builder floors design service with exceptional design, creativity and skills.
2. Strategic Planning by our interior designers in Gurgaon & Dwarka Expressway
Before beginning the execution of any project, we firmly believe in conducting thorough preparation with our esteemed clients. We fully comprehend the customers' requirements before acting according to them. Planning is essential because we are here to assist you in finding the most excellent and luxurious exterior and interior designs for your home or business.
When the planning is carried out correctly, the project's implementation is simple. Due to our extensive experience in interior and exterior design, many clients favour us as their first choice.
To give you the best possible exterior and interior designs, we work to ensure that every piece of furniture used in the process is of top quality. As per the specific needs of our clients, we can provide high-quality and affordable furniture & wardrobe designs in Gurgaon like luxury walk in closet designs, sliding wardrobe designs etc.
4. Installation & Aftercare
We have well-trained installers who are specialized in carrying out any job perfectly. They will carry out the installation in a way which is quick and easy to do. If any problem arises during the installation process, then our experts are always available to resolve the issue at the earliest.
Our installation team will provide regular reports regarding the project's progress and completion. It is our commitment that all the work is carried out promptly.
5. Luxury Decoration by best interior designers in Gurgaon & Dwarka Expressway
Our team of professionals assures that your apartment is decorated elegantly yet sophisticatedly. With the help of our home décor services, we completely change the site's appearance. Our decorating services are provided on time. At Exceldes, we provide a one-stop shop for interior decoration.
Our business owns a skilled staff with expertise in home furnishings, corporate interior design, industrial interior design, and home interior design. One of the leading interior design companies in Gurgaon & Dwarka Expressway, we extravagantly prepare and develop concepts to satisfy clients' particular needs. Our professionals work hard to give space a unique touch and an intriguing appearance.
6. Home Renovation/ Remodeling
Home renovation is a process where you need to modify your existing premises to make them attractive and functional. It can be done in different ways like renovation, remodeling and alteration. It helps improve your family's lifestyle by providing a better and cost-effective place to live. Exceldes has experts who can do everything from designing, planning, furnishing, and implementing your dream home renovation in Gurgaon & Dwarka Expressway. We understand that it's not easy to remodel your home or design it as per your specifications. But we offer a complete package which includes everything from home renovation to interior design to construction & fitting.
Types Of Projects Handled By Our Experienced & Luxurious Interior Designers In Gurgaon & Dwarka Expressway.
Your home is where you feel most comfortable, and we keep that in mind. At Exceldes, we create cutting-edge interior designs that will suit your needs. Our home interior design firm in Gurgaon & Dwarka Expressway gives luxurious, innovative, spacious, & sophisticated solutions for modern villa exteriors, full home furnishings, interiors for apartment/ penthouse, luxury bungalow/home/duplex, farmhouse designs that are suited to the personalities, preferences, & lifestyles of our customers. By fusing the appropriate patterns, materials, & fabrics, we are dedicated to giving our clients outstanding homes.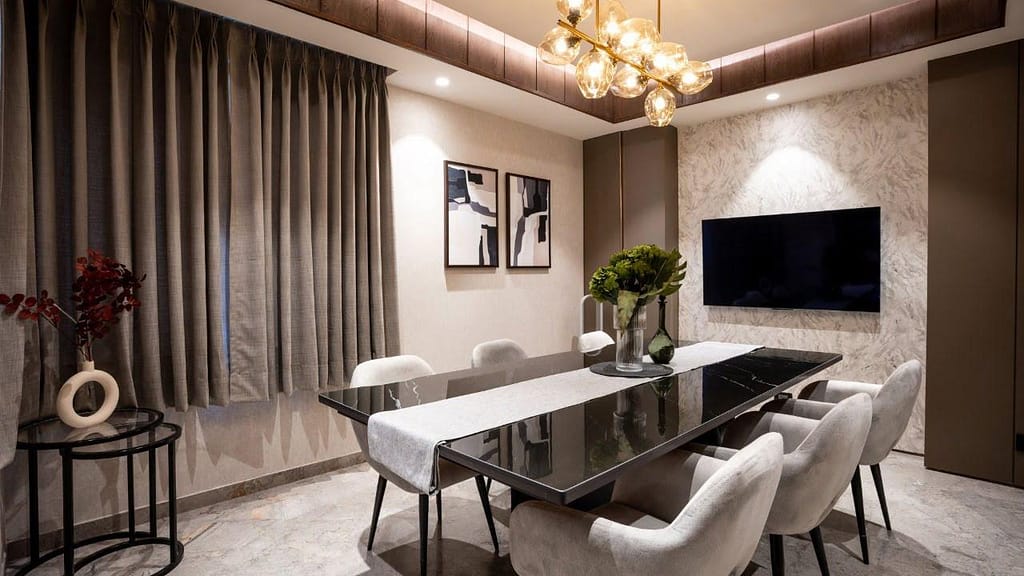 2. Commercial Interior Designers In Gurgaon & Dwarka Expressway
At Exceldes, we strive to offer the top commercial interior design in Gurgaon & Dwarka Expressway Delhi, and Noida, as well as throughout the rest of India. A businessman's life revolves around his commercial space; thus, our professional & best interior designers in Gurgaon & Dwarka Expressway make every effort to build a space that is functional, effective, enjoyable, & actively encourages your daily tasks. To ensure our customers' warmth, satisfaction, and freedom of expression, we design exceptional commercial interiors customized for them and one-of-a-kind.
3. Design For Hotels And Restaurants Interiors
Plans for the weekend commonly involve a nice hotel or restaurant. Most customers are attracted to a restaurant, café or bar's interior design and its excellent food and services. What makes you so concerned, then? Exceldes's interior designers can transform the space inside your restaurant or pub since we are a reputable luxury interior design company in the Gurgaon & Dwarka Expressway and Delhi NCR area.
4. Interior Design For Retail
Regarding retail interiors, Exceldes has always focused on creating experiences for their clients instead of simply providing displays for companies. Our interior designer team concentrates on practical solutions and considers the business's needs to grab prospective clients' interest. We are one of the best interior designers in Dwarka Expressway. Our architects have been trained to maintain the difference by methodically adhering to all aspects of retail outlets.
Consult the Top Interior Designers in Gurgaon & Dwarka Expressway
Want to renovate the interiors of your home? You won't have to be concerned since we will combine your wishes with our best interior designers in Gurgaon & Dwarka Expressway &  to build a luxurious apartment for you. We are here to fulfill your needs and give your residence a makeover without any fuss, to the best of our abilities.
Our brand represents worldwide luxury and a native architectural instinct impacted by both modern & conventional home design. After 5+ years of experience in this business, the firm has expanded its operations to mega-cities like Gurgaon, Dwarka Expressway, Delhi NCR, Noida, Faridabad, Ghaziabad etc. Over 60+ successful projects have been accomplished in this period, and we're working hard to finish more. Let's work together to make this journey remarkable.
Why we are considered as the Best Interior Designers in Gurgaon & Dwarka Expressway
For their affluent clients, exceldes interiors provides sophisticated interior design solutions, resulting in pleasant, attractive, and cosy home interiors. They offer turnkey project management, site design, finishing and material options, customization and assembly of furniture, and furniture assembly. Because of their depth of knowledge, creative approaches to resolving typical design flaws, and approachable personalities, they are considered the best interior designers in Gurgaon & Dwarka expressway.
Top Interior Designers In Gurgaon?
Here is a list of few other best interior designers in Gurgaon:
Interior design is a sector where competitiveness has increased significantly in recent years.
Choosing the best interior designer in Gurgaon is challenging when looking for one. Several reputable businesses currently dominate the industry by providing individualized and excellence-driven interior design solutions. However, we've compiled a list of a few well-known companies in the sector that provide top-notch interior design services in Gurgaon, Noida, Delhi, and other nearby cities.
Let's get started to begin with the list right away.
Exceldes is at the top of the list for solid reasons. It is a well-known and experienced interior design firm in Gurgaon, Noida, New Delhi, and many more locations. Our designs are always unique, luxurious, highly aesthetic, and functional. Our team of professional interior designers in Gurgaon uses innovative and modern techniques to ensure the best outcome. We are committed to quality and offer impeccable interior design services. We handle turnkey interior designs for single floors, villas/farmhouses, and residential, commercial, and hospitality interiors.
7WD Architecture & Interior Studio
The most recognized firms for interior designers in Gurgaon are 7WD Architecture & Interior Studio. Their styles are notably distinctive, with Morden and Timeless Design with a worldwide impact. They are elegant and diverse. They specialize in luxury and high-end homes and businesses.
A reputable interior design firm in Gurgaon, MADS Creations was established in 2002 and offered extensive designs with international sophistication to homes, businesses, and the hospitality industry, expressing a classy way of life. It has been synonymous with creativity, elegance, and flair, owing to a very authentic perspective on the interior design industry. 
With a focus on interior design and turnkey realization of projects for real estate builders, Tribuz Interiors is a service provider. This company's interior design services in Gurgaon are unique with a personal touch. The company has a rich experience in interior design. They work on interior design projects for homes and businesses in various styles and moods.
Customer satisfaction is absolutely essential to us, so we'd appreciate hearing on your most recent service experience!
We would greatly appreciate a brief Google review letting us understand how we did.
Best Architects and Interior Designers in Gurgaon
It was a good experience with exceldes
I had a great experience with ExcelDes Architects.
Govindchauhan Raja
2022-08-12